Dear friends,
It gives me courage and strength that there are so many of you following my journey. Due to the redesign of the website previous entries are no longer available, so here is a little retrospective on some important concerts of the last few years.
I am very happy to see the enthusiasm of musicians of many different nationalities: Russian, Danish, Swedish, Norwegian, Italian, Canadian, Chinese, German, Swiss, Romanian, Albanian, Greek, Ukrainian, Brazilian, American, French…). This has led to my music being played on prestigious stages and festivals all over the world.
As example, the "Brazilian Suite" was played in August, 2017 at this Shanghai Opera by Mark Drobinksy (cello) and Liudmila Pishchik (piano), then again in Septembre, 2019 at the International Summer Xiropigado in Greece and in October of the same year at the Münchner Künstlerhaus im Festsaal in Germany by Mark Drobinsky and pianist Simon Adda-Reyss.
This piece was also performed twice in Denmark by pianists Tanja Zapolski and Rikke Sandberg, in January 2020 at the "Black Diamond" in Copenhagen and in June 2020 at the Nordic Chamber Music Festival in Hillerød.
The Brazilian Suite was also performed twice by David Lefèvre, first violin and soloist of the Monte-Carlo Philharmonic Orchestra: once in December 2018 at Le Bristol Paris accompanied by The French Riviera Orchestra, and again in July 2020 in Bucarest, Romania with the Georges Enesco Symphonic Orchestra.
On November 13th, 2018 Antonio Santana launched his CD A Woman's Mirror at the Rachmaninov Conservatoire in Paris. The concert was presented by Alain Duault and featured great lyric stars and famous soloists accompanied by pianist Kira Parfeevets on Rachmaninov's own piano.
The pieces from this CD were then played in many concerts: June 2019, at the Risonanze festival in Malborghetto-Valbruna in Italy with singer Norah Amsellem and pianist Kira Parfeevets; in December 2019 at the Grand Avignon opera with singers Blerta Zhegu and Delphine Haidan, as well as David Lefèvre (violin) and Kira Parfeevets (piano).
The same melodies also rang in iconic places like Salle Gaveau in Paris on November 14th 2019 with Norah Amsellem, Jean-Marc Phillips-Varjabédian (violin) and pianist Christie Julien.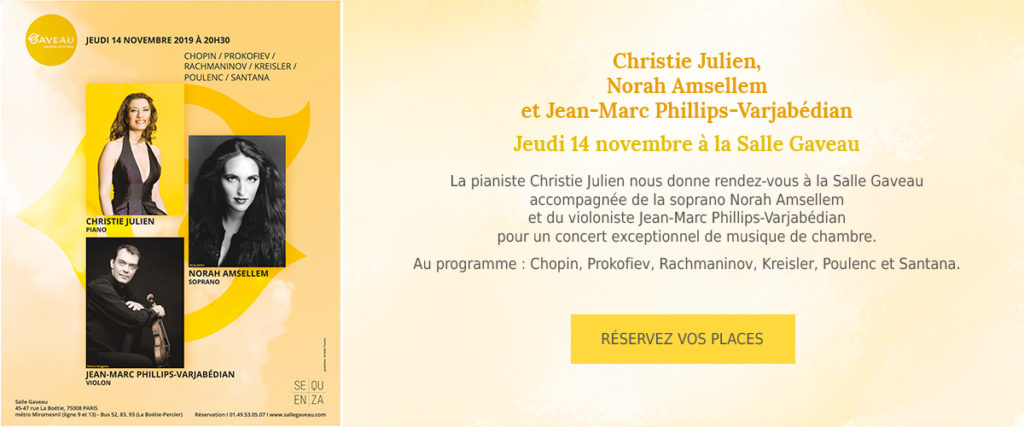 In January of 2020, The Voice of the Amazon was played in New-York at Carnegie Hall by Philippe Benjamin Skow, violin and Julie Coucheron, piano. This piece was also performed twice in May 2019 at the Louisiana Museum of Modern Art in Copenhagen by Benjamin Skow (violin) and Tanja Zapolski (piano), and was part of the program of the Kon-Tiki kammermusik festival in Oslo in June, 2019.
The symphonic suite The Voice of the Oceans was created on July 22nd, 2018 in the famous Citadel of Port-Louis in Brittany, France. The Minsk orchestra of Belarus, directed by Benjamin Fau, accompanied soloists Coline Métra (soprano), Mark Drobinsky (cello), Daniel Propper (piano) on a backdrop of deep-sea pictures curated by Jean-Yves Collet and Pierre Mollo. The piece was then performed in three cities in Brittany.
On July 12th, 2018, exceptional concert at the Russian Orthodox Spiritual and Cultural Center in Paris: a program of Santana's pieces for voice, violin and cello with Blerta Zhegu (soprano), Éric-Maria Couturier (cello), Anton Martynov (violin) and Daniel Propper (piano).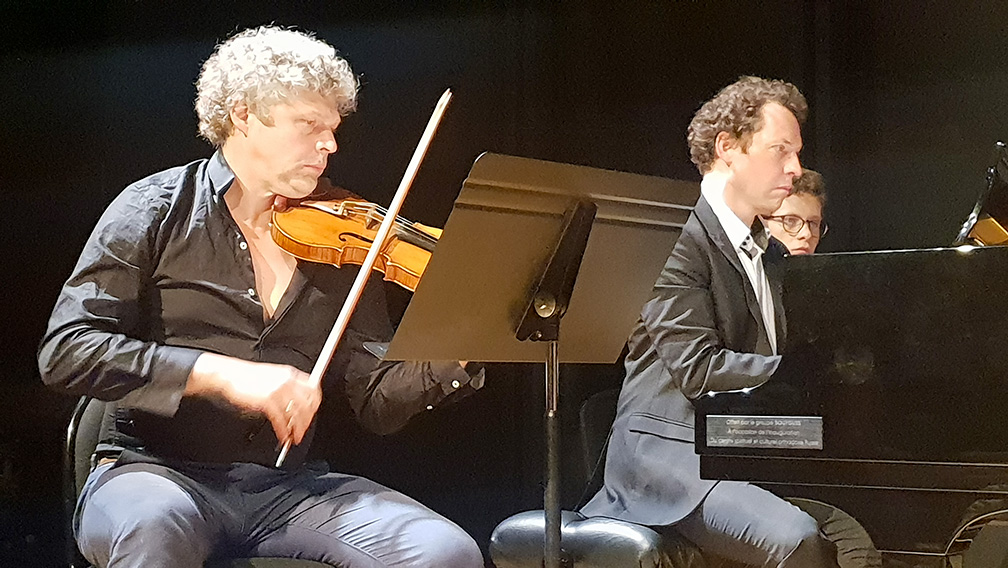 Thank you for reading this retrospective, and see you soon for more beautiful musical experiences!